Our Staff - Directors
John Brownlow MRICS MRPSA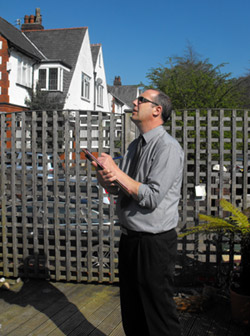 JOHN BROWNLOW MRICS MRPSA is a Director in the practice of Edwards Genesis (Chartered Surveyors). He is also a Director of Brownlow Associates Ltd (Chartered Surveyors) and a Partner in Hampson Moore (Chartered Surveyors). He is a Member of the Royal Institution of Chartered Surveyors having been elected to membership in 1983 following completion of the Institution's examination programme, undertaken whilst training in the employment of the Inland Revenue's Valuation Office, and is also an RICS Registered Valuer.
Edwards Genesis was established in October 2008 following acquisition of the Survey Department of Edwards (Chartered Surveyors and Estate Agents) and is a Survey and Valuation practice incorporating the Valuation Department of Millers (Chartered Surveyors), a long established practice based in Leigh. Brownlow Associates was originally established as a partnership to undertake consultancy valuation work for BBG Surveyors but developed into a broader survey and valuation practice and was incorporated as a Limited Company in January 2009. Hampson Moore is a small-scale survey consultancy practice.
John was born in Bolton and has spent the majority of his working career undertaking Surveys and Valuations of residential and commercial property in Bolton, Leigh, Wigan and surrounding areas. His post-qualification experience has largely been in the private sector although he was employed by the Cheshire Building Society in 1984-1986 as a Staff Valuer. He was a founding Partner in Edwards & Co at the time of that company's inception in 1992. In addition, he served on the Founding Committee of the Independent Surveyors' Association (ISA) and presented evidence to the Monopolies and Mergers Commission at the time it investigated Mortgage Valuation practices in the mid 1990s. He has presented evidence to Judicial Bodies on a number of occasions. His particular areas of expertise are in the field of valuation and survey of residential property and he has considerable experience in preparation of expert witness reports complying with CPR and the RICS Practice Statement "Surveyors Acting as Expert Witnesses".
John has previously been a Consultant Surveyor for BBG Surveyors (subsequently SPS Surveyors and Countrywide Surveyors), Sonas Chartered Surveyors and e-surv. He has previously (2009) advised the BBC Watchdog programme on a building dispute.
John has been accredited as an "RICS Registered Valuer" under the Royal Institution's Valuer Registration Scheme (VRS), which is intended to ensure the quality of valuation advice given by Chartered Surveyors.
Previous expert witness instructions:
valuation and disrepair issues including cases relating to mortgage valuations and private surveys
valuer/surveyor negligence
matrimonial matters
diminution in value arising from subsidence damage and conveyancing/legal matters
boundary disputes
accident and personal injury claims
housing disrepair (Section 11 claims)
Previous major expert witness cases:
Washburn Close, Westhoughton, Bolton – 1997/1999
Expert Valuer in relation to subsidence damage on a 26-unit housing development. Claim value over £3m.
Eckersley Road, Bolton – 1999/2001
Expert Valuer in relation to subsidence damage to a street of terraced houses following sewer replacement works.
Lostock, Bolton – 2000
Joint Expert Valuer in relation to a matrimonial home valued at £800,000.
Kearsley, Bolton – 1997/2001
Valuation witness in relation to commercial stables – dispute relating to diminution in value arising from the failure of a conveyancer to obtain a Coal Mining Report.
Poplar Avenue, Bolton - 2002-2004
Expert Valuer acting for the Claimant in relation to an allegation of professional negligence against a Building Society Valuer. Property affected by subsidence damage and other structural problems.
Bolton - 2008
Expert Valuer on an individual detached house with a valuation of around £750,000 and with numerous legal issues affecting saleability.
Chorley - 2009
Joint Expert in relation to allegations of trespass, noise, loss of light and other nuisance arising from construction of an extension.
Bolton - 2010
Expert Valuer on a period detached residence with an "on the market" price of £2,000,000.
Heywood - 2013
Court appearance to provide evidence in connection with a long running neighbour dispute.
Expert witness instructions previously received from:
Beachcroft Wansboroughs
Davies Arnold Cooper
Pannone & Partners
Keoghs
Garstangs
James Chapman
Kippax Beaumont & Lewis
Fieldings Porter
Forbes (Solicitors for Blackburn, Wigan, Preston, Bolton and Bury Councils)
Laytons
Adam F Greenhalgh & Co
Stephensons
R&SA Legal
Solicitors' Indemnity Fund
John has also advised insurance companies, loss adjusters and structural engineers in relation to valuation issues arising from subsidence damage, allegations of valuer/surveyor negligence etc. and regularly provides Valuation Reports for use in matrimonial proceedings to local Solicitors, often on a joint instruction basis.
Outside work, John is married and has 3 adult children and has interests in sport (particularly rugby league and cricket), walking, theatre and literature, and he is a fan of cryptic crosswords.
October 2011
Simon Miller FRICS MRPSA
Simon Miller FRICS MRPSA has worked in the property profession for over 30 years. He has a BSc in Valuation & Estate Development and is a Fellow of the Royal Institution of Chartered Surveyors (FRICS) and is also an RICS Registered Valuer, and a Member of the Residential Property Surveyors Association.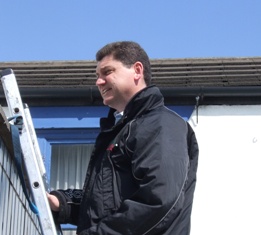 Simon's early career was with the old Leigh firm of Alker & Hilton and he was then employed by the well-respected Leigh house builder, Broseley Homes, before moving to the Leigh-based independent Chartered Surveying and Estate Agency practice of Brogdens. After a short spell managing the Culcheth branch of Edwards Grounds, Simon returned to Leigh in 1991 and became a Partner in Brogdens, which was by then trading as Ians Property Services. Since 2001 Simon has been the sole principal of Millers Chartered Surveyors and in 2008 he joined John Brownlow as a Co-Director of both Edwards Genesis and Brownlow Associates under the parent company Miller Edwards Ltd., which also incorporates the Valuation Department of Millers Chartered Surveyors.
In his career Simon has gained vast experience in most aspects of property transactions. Initially this was largely in the sale and valuation of residential property, but Simon has more recently been involved mostly in commercial property on both an agency and valuation basis. In addition to valuation and agency work Simon also has experience of property management, Landlord & Tenant, development and rating work, and also undertakes residential survey and valuation work.
Simon has lived in Leigh for over 30 years and is married with two children, one at University and one recently having graduated from Warwick University and now employed in teaching. Simon is a long-standing member of Leigh Round Table and is a school governor as well as being involved in local sports clubs.